Biometrics Reader + SDK
---
We provide BIOMETRICS MYKAD SDK for Software Developers to read MYKAD owner's personal information and verify thumbprint. It is soo flexible and easy to use. You don't have to know low level smart card command. Our BIOMETRICS MYKAD SDK use to verify LEFT and RIGHT thumbprint with simple API call isVerifyLeft() and isVerifyRight(). It's FAST. Below 3 seconds! BIOMETRICS MYKAD SDK comes with BIOMETRICS MYKAD Reader!
Web and Desktop application support! Widely used by banks and government agencies.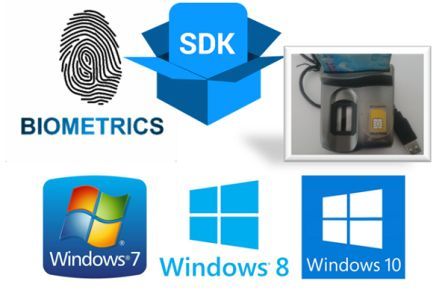 USB fingerprint device for highly secure PC applications.

Perfectly suited to desktop applications
Advanced software for 1:1 verification
Intrinsic security features
Integrated smart card reader
The MYKAD SDK-BIOMETRICS
The MSO 1300 family range is intended for PC-based application. Thanks to its SDK, it can interface with any type of host application.
• The SDK incorporating the MSO CBM fingerprint sensor.
• The SDK features a PC/SC smart card reader (ISO format) along with the fingerprint sensor.

Security
The module captures, processes and matches fingerprints internally, thereby increasing security.

Biometric features
The MorphoSmart™ 1300 series is an unmatched device offering in a very small volume the ability to both verify (1:1) and identify (1:N) people on a database of 500 records, with 2 biometric templates each. Verification or identification takes less than one second.

Technical Characteristics
• Mechanical
- L=67; W=38; H=15mm
- Weight: 40g
• Sensor
- Thin optical sensor
- 500 dpi @ 8bit per pixel
- Active area: 13mm x 20mm
• Processor
- Powered by an ARM9™ family CPU core
• Power consumption
- Fully operating, sensor on: 300mA max @ 5V
- Fully operating, sensor off: 100mA max @ 5V
- Interface: USB 1.1 and 2.0
• Environmental
- Operating temperature: -10°C to +50°C
• Software
- BIOAPI compliant software suite
• Operating system
- Windows XP, 2000, 7, 8 & 10
• Algorithms
- MorphoImaging™, MorphoSoft™ embedded
• Database
Most common operations supported
• Biometric features
- 1:1 verification
- Verification time < 0.8s
- Identification time< 1s
- Tuneable false acceptance rate
• Certification
• CE and FCC15
• Product by SAGEM France